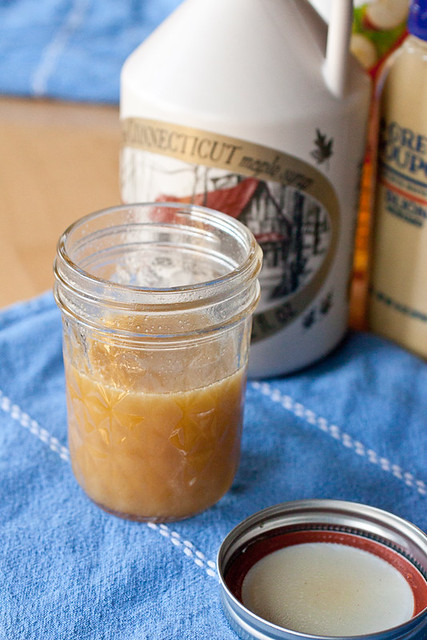 This maple Dijon vinaigrette has basically rocked my world over the past couple of weeks.  I actually made it back in the fall for the first time to dress my sweet and salty harvest salad but I've been making a batch a couple times a week and eating it on salads for lunch and marinating chicken in it for dinner.  I recently committed myself to eating more leafy greens (other than romaine lettuce) and this dressing it helping me to stay on track.  To say that my favorite [new] lunch salad – chopped kale, crumbled gorgonzola or feta, sliced almonds, and a chopped pear all drizzled with this dressing – has been something I totally look forward to every day, it's got to be something pretty excellent.
Ingredients
2 tbsp pure maple syrup
Up to 1/3 cup extra virgin olive oil
1 tsp Dijon mustard
1 tbsp apple cider vinegar
¾ tsp sea salt
Instructions
Whisk the maple syrup, ¼ cup olive oil, mustard, vinegar, and salt together in a medium bowl or shake it all together in a mason jar. Whisk in additional olive oil in small increments up to 1/3 cup total until you reach your desired dressing consistency. Vinaigrette will keep in the refrigerator for about 1 week.
Source
Smells Like Home original
http://www.smells-like-home.com/2014/04/maple-dijon-vinaigrette/
Copyright Smells Like Home. Please provide a link to this recipe should you share your version online or in print.