Whole Wheat Cinnamon Raisin Scones
Friday, June 8, 2012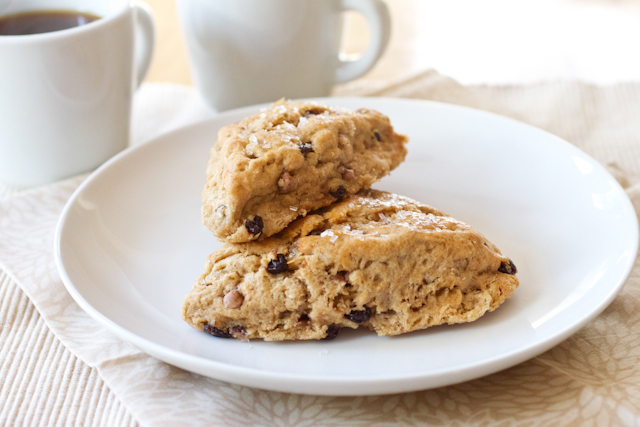 Long ago, I fell in love with cinnamon raisin bagels.  And by long ago, I mean that I can remember trying to eat them as a 7 year old without a full set of teeth.  It took me a long to time to finish things like bagels in those days.  I've been meaning to make cinnamon raisin bagels for years but considering my love for bagels, it may be better off for my waistline that I haven't done so yet.  So you can imagine that I was all about these scones when I found out they were on the agenda at King Arthur Flour's Blog & Bake this week…and I think I was even more stoked at the idea of them when I learned we would be making them with white whole wheat flour, a flour variety I've been curious about for so long.
In short, these scones are awesome.  I filled them up with extra ground cinnamon and cinnamon chips and used the folding method to work the chips and raisins into the dough which very nicely distributed them throughout the dough.  With a slightly crispy exterior and flaky interior, you would never know these warmly spiced scones were made with white whole wheat flour, save for the color.  I picked up a 5lb bag for myself before I left the Baker's Store so you'll definitely be seeing more recipes with it around here.  And if they all turn out as great as these cinnamon raisin scones did, I'll be a happy woman.
Whole Wheat Cinnamon Raisin Scones
source: adapted from King Arthur Flour
Ingredients:
2 cups (8 oz) white whole wheat flour
2 1/2 tbsp sugar
2 tsp baking powder
1/2 tsp baking soda
1 heaping tsp ground cinnamon
1/2 tsp table salt
1 stick (8 tbsp) unsalted butter, diced and chilled
3/4 cup buttermilk
1 egg, separated
1/2 cup raisins
1/4 cup cinnamon chips
Sparkling or coarse sugar, for topping
Instructions:
Preheat oven to 375 degrees F and line a baking sheet with parchment paper.  Whisk the egg white until lightly foamy in a small bowl and set aside.
Whisk together the flour, sugar, baking powder, baking soda, cinnamon, and salt in a large bowl.  Cut in the butter with a pastry blender or two knives.  In a separate bowl, whisk the buttermilk and egg yolk together and stir the mixture into the dry ingredients just until a dough forms.
Transfer the dough to a lightly floured work surface and fold in the raisins and cinnamon chips with your fingertips.  If the dough is too sticky, add a little extra flour, as needed.  Pat the dough into a flat disk about 7 inches in diameter and cut it into 12 wedges.
Transfer the dough as a disk (for softer scones) or as individual pieces (for crispier edges) to the baking sheet.  Brush the tops of the wedges with the egg wash and sprinkle with some of the sparkling/coarse sugar.  Bake for 20-27 minutes (on the lower end if you separate the pieces), until they are baked through and are golden brown.  Transfer the baking sheet to a wire rack to cool for 10 minutes then transfer the scones to the rack to cool.  Serve warm or at room temperature.  Store in an airtight container for up to 3 days.