Maple Dijon Vinaigrette: For when you need a quick and versatile dressing to whip up for salads or marinating chicken when you're out of the bottled stuff.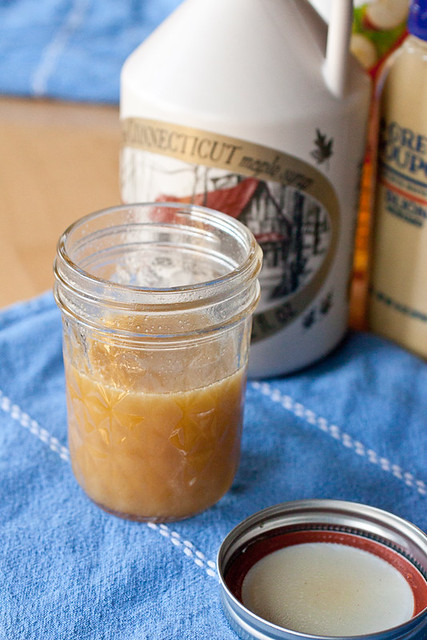 This maple dijon vinaigrette has basically rocked my world over the past couple of weeks.  I actually made it back in the fall for the first time to dress my sweet and salty harvest salad but I've been making a batch a couple times a week and eating it on salads for lunch and marinating chicken in it for dinner.
I recently committed myself to eating more leafy greens (other than romaine lettuce) and this dressing is helping me to stay on track.  To say that my favorite [new] lunch salad – chopped kale, crumbled gorgonzola or feta, sliced almonds, and a chopped pear all drizzled with this dressing – has been something I totally look forward to every day, it's got to be something pretty excellent.
Is it me or is there something so satisfying about making your own salad dressing? Have you tried your hand at it? Did you know how insanely easy dressing is to make??
Let's walk you through how to make this vinaigrette, for example: add all 5 ingredients to a jar, cover, and shake. Or: add all 5 ingredients to a bowl and whisk.
YES!! This recipe is THAT easy! Then all you've got to do is drizzle it over salads or pour it in a zip-top bag and drop some chicken breasts in to marinate for grilling or pan frying later in the day.
When it comes to making my life easier in the kitchen, this maple dijon vinaigrette is a complete winner. It also makes my work life a bit easier too since I make a batch to store in the fridge at work. This way, I only need to focus on putting a salad together for lunch and I'm not worried about spilling the dressing all over my lunch bag while in transit every day.
It's the little things, right?
Ways I've Used This Maple Dijon Vinaigrette:
Maple Dijon Vinaigrette
Notes
This vinaigrette recipe doubles and triples easily but be sure to add the minimal amount of oil to start and add more to thin the vinaigrette out as needed.
Ingredients
2 tbsp pure maple syrup
Up to 1/3 cup extra virgin olive oil
1 tsp Dijon mustard
1 tbsp apple cider vinegar
¾ tsp sea salt
Instructions
01

Whisk the maple syrup, ¼ cup olive oil, mustard, vinegar, and salt together in a medium bowl or shake it all together in a mason jar. Whisk in additional olive oil in small increments up to 1/3 cup total until you reach your desired dressing consistency. Vinaigrette will keep in the refrigerator for about 2 weeks.
Smells Like Home original
we love to see what you make!
tag what you make with #smellslikehomeblog on Instagram and follow along with me in my New England kitchen!
@smellslikehomeblog