Every girl needs a frilly pink birthday cake and this pink vanilla bean birthday cake delivers with a soft and tender cake and loads of sprinkles!
For years I've been dreaming about finding a dense yellow cake recipe that could hold up to being stacked in layers as well as a thick layer of velvety frosting.
So many recipes I came across just didn't fit the bill! Either they were too fluffy negating the ability to even hold up to being frosted or they were flavorless and blah.
So when I saw this cake posted way back in June, I filed it away in the back of my mind as a possibility for this year's birthday cake. The thing is, I couldn't shake this cake.
Every time I thought about my upcoming birthday this whole summer, visions of this cake floated into the forefront of my mind.
Pink. Sprinkles. Vanilla beans.
It was practically the most basic cake that I wanted so desperately! Nothing fancy, no swirls or drizzles or compounding flavors. And I insisted on waiting until my birthday to make it.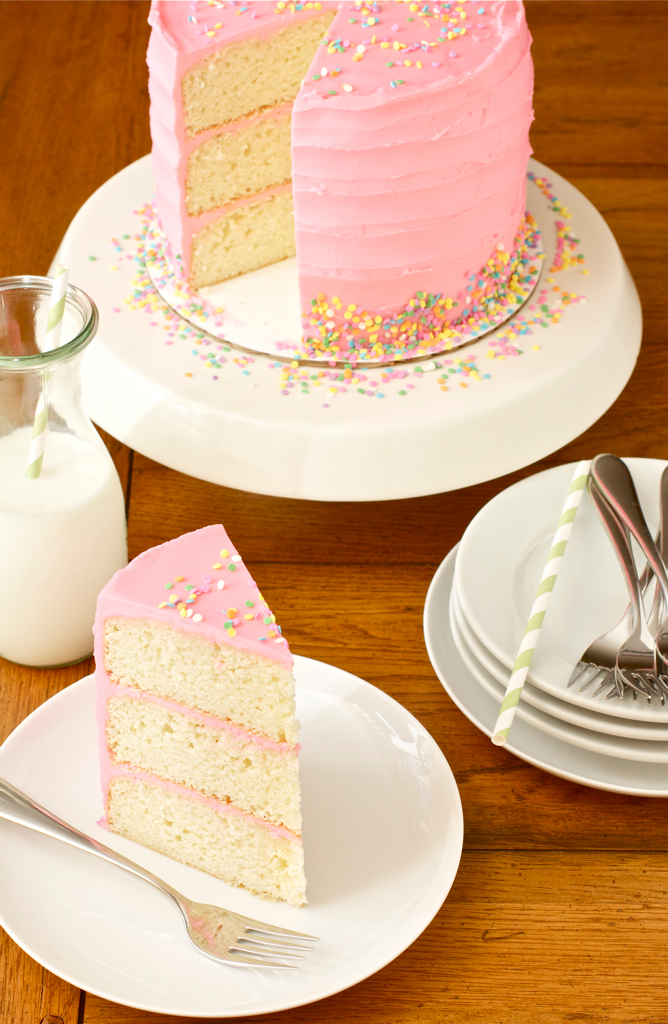 Believe me, there were many times where I almost threw in the towel. Times where this cake almost got made.
But I held strong and waited until last week.
And honestly? I'm so glad I waited!!
I made this pink cake, step-by-step, and feeling like it was a hot and stuffy August night in 1986 again, I had all the anticipation and excitement of the 8 year old me waiting for my candle-lit birthday cake to be brought in through the darkened room with drones of the [maybe not-so-purposefully] out of tune birthday song in the background.
Seriously, I was dancing with excitement to show Kyle this cake when he got home from work!
And had he not OK'd eating cake before dinner (thank goodness for being an adult!), I think I may have burst.
And it was everything I wished for!!
Dense, moist, tangy from the buttermilk, speckled with vanilla beans, and with a smooth buttercream frosting that gave juuuust the right amount of sweetness to the cake layers.
This was most definitely the prettiest cake I had ever made and I couldn't be happier with how the towering three layers and frosting held up to being cut into such perfect slices.
Needless to say, I've found the yellow cake recipe I've been searching for all these years and I can definitely see many birthdays in the future being brightened with this pink vanilla bean birthday cake!
. . . . .
More Birthday Cake Inspiration!!
Pink Vanilla Bean Birthday Cake
Prep Time - Cake:
25 minutes
Prep Time - Frosting + Decorating:
20 minutes
Total Time:
1 hour
15 minutes
Every girl needs a frilly pink birthday cake and this pink vanilla bean birthday cake delivers with a soft and tender cake and loads of sprinkles! This cake is also perfect for baby and bridal showers, weddings, Valentine's Day, and you know, just a random weekend!
Ingredients
For the vanilla bean cake:
3 sticks (1 ½ cups) unsalted butter, at room temperature
2 ⅔ cups granulated sugar
9 egg whites, at room temperature
4 ½ cups all-purpose flour
2 tbsp baking powder
1 tsp salt
2 cups buttermilk
1 vanilla bean, split and seeds scraped
1 teaspoon pure vanilla extract
For the whipped vanilla buttercream frosting:
3 ½ sticks (1 ¾ cups) unsalted butter, softened and cut into cubes
3 ½ cups sifted confectioners' sugar
¼ cup heavy cream
1 ½ tsp pure vanilla extract
⅛ tsp salt
Ateco or Wilton color gel for dying
Instructions
To make the cake: Preheat oven to 350° F. Butter three 8-inch round cake pans, line with parchment rounds, butter the rounds, and dust the pans and rounds with flour, tapping out the excess.
In a stand mixer fitted with the paddle attachment, beat the butter and sugar on medium-high speed until lighter in color and slightly increased in volume, 3 to 5 minutes. Lower the speed to medium and add the egg whites gradually, mixing until fully incorporated.
Sift the flour, baking powder, and salt into a medium bowl. Mix vanilla extract and vanilla bean seeds into buttermilk. Alternate dry ingredients and buttermilk into creamed mixture, beginning and ending with dry ingredients. Mix until just incorporated or finish by hand gently.
Divide the batter evenly between the prepared pans. If possible, weigh the batter in each cake pan on a digital kitchen scale to ensure even layers. Smooth with small offset palette knife.
Bake for about 30 minutes, rotating once after 20 minutes. Cake is done when toothpick or skewer comes clean. Let pans cool on wire rack for 10 minutes, then invert cakes onto racks, gently, peeling away parchment rounds. Let cool completely.
To make the frosting: In the bowl of a stand mixer fitted with the whisk attachment, whip butter on medium-high speed until smooth, about 1 minute.
Add the confectioners' sugar to the bowl and mix on medium-low speed just until incorporated. Add in the salt. Continue to beat on medium-high speed until smooth, about 1 to 2 minutes. Mix in the vanilla extract and heavy cream on low speed just until incorporated. Increase the mixer speed and whip on high speed until light and fluffy, scraping down the bowl as needed, about 4 minutes. Stir in the color gel to achieve your desired color.
Frost and decorate the cake as desired.
Notes
The cake layers can be made in advance, wrapped tightly and refrigerated for up to 2 days or frozen for up to 1 month (thaw in the fridge before frosting). The frosting should be made at the time you plan to frost the cake as it can lose a little of its fluffiness when refrigerated.
vanilla bean cake adapted from Sweetapolita | whipped vanilla frosting adapted from Sweetapolita via Annie's Eats
Recommended Products
As a member of the Amazon Associate affiliate program, I earn a small percentage from your qualifying Amazon purchases when you click the Amazon links on this page. I'm not informed of who purchases what, just of what products are purchased.