This southwest chicken chopped salad is packed full of healthy veggies and beans and is topped with a copycat version of Chipotle's honey vinaigrette.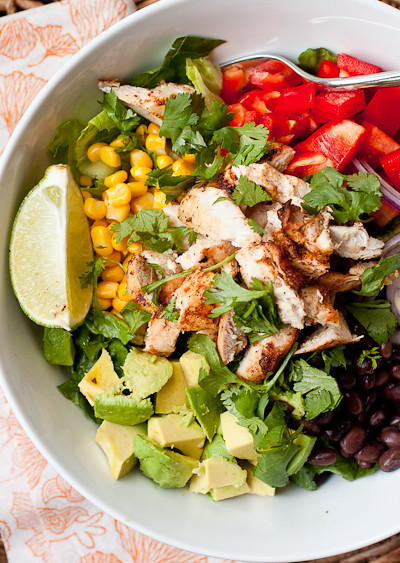 A while back, I came across a southwest seasoning mix at Penzey's that got me on a streak of some fantastic salads. I mixed the seasoning up with some ranch dressing (bottled at the time, homemade these days), honey, and lime juice, and drizzled it all over a southwest grilled chicken chopped salad.
I never really feel the urge to blog about it because a) it went so fast that I never took an photos, and b) it contained a type of seasoning mix that I wasn't sure was easily accessible to everyone.
But nonetheless, I've taken the base of that awesome salad and combined it with a new dressing.
Well, it's not completely new to me. It's a copycat of Chipotle's honey vinaigrette, which I completely adore and which is way too accessible to me these days with a location just two blocks from my office. Gah!
This homemade honey vinaigrette is a sweet and spicy one but it pairs so well with the cool, crisp salad, and especially the chopped avocado. If you're not feeling a spicy honey vinaigrette, you can definitely cut back on the chipotle powder or use a different chile powder altogether. Ancho chile powder milder but is really flavorful and would work well in place of the chipotle powder.
I love that I can whip up this vinaigrette in just a couple minutes and spend the time that the chicken grills chopping up some veggies.
And I also love that the vinaigrette recipe makes enough for at least 6 servings so I've got extra stocked in the fridge for other meals or for marinating chicken in.
What is Chipotle Salad Dressing Made of?
I can't tell you what the honey vinaigrette is made of at Chipotle restaurants but I CAN tell you that the homemade version contains a list of very basic pantry ingredients that I'm fairly sure you already have in your kitchen right now. Here's the quick ingredient list breakdown for you (see the full recipe below for ingredient amounts):
Red wine vinegar
Honey
Dijon mustard
Ground chipotle powder
Lime juice
Black pepper
Kosher salt
Sweet paprika
Garlic powder
Onion powder
Dried oregano
Extra virgin olive oil
This may seem like a long list but most of the ingredients are spices and once you mix them up, it's smooth sailing to finish making this dressing. And honestly, I don't mind the extra time it takes to make a delicious homemade dressing when I know what every single ingredient in the recipe actually is.
The chicken I made for this Southwestern chopped salad is an absolute piece of cake to make. It's literally a couple of chicken breasts with some taco seasoning that I grilled and then chopped.
YES! The chicken is that easy to make!
Of course, if you don't have taco seasoning in your cabinet, you can make a quick spice rub by sprinkling some cumin, chili powder, garlic powder, oregano, paprika, Kosher salt, and pepper all over both sides of the chicken.
Toppings for Southwestern Chopped Chicken Salad
I went pretty minimalistic with the toppings for this salad but I think a list of suggested toppings might be helpful if you really want to customize your own salad:
corn
black beans
avocado
red, yellow, or orange bell peppers
tomatoes
grilled sweet potatoes
swap out the chicken for spicy black bean cakes or honey lime shrimp
scallions or chives
shredded cheese (cheddar, cheddar jack, Monterey jack, or pepper jack would all be great)
crushed tortilla chips
Fritos
cilantro
fresh red onion or pickled red onions
lime juice
sour cream
Anyway!! This Southwestern chicken chopped salad is a perfect summer salad for some of the hottest nights each summer and I KNOW you'll be down for an easy and fantastic salad!
Southwest Chicken Chopped Salad with Chipotle Honey Dressing
Active Prep Time:
25 minutes
Vinaigrette Chilling Time:
1 hour
Total Time:
1 hour
33 minutes
What's great about this Southwestern chopped chicken salad (aside from everything in it!) is that you can opt to cook the chicken indoors in a saute pan if you can't grill or it's the middle of winter and you're dying for a fun summer meal. Just add a little vegetable oil to a hot pan, season the chicken, and saute each side for 5-7 minutes over medium-high heat or until they are cooked through.
Ingredients
For the chipotle honey vinaigrette:
½ cup red wine vinegar
⅓ cup honey
2 tsp Dijon mustard
1 ¼ tsp ground chipotle powder
Juice of ½ lime
½ tsp black pepper
¾ tsp Kosher salt
½ tsp sweet paprika
¼ tsp garlic powder
¼ tsp onion powder
¼ tsp dried oregano
½ cup extra virgin olive oil
For the chicken and salad:
1 ½ lbs boneless skinless chicken breast, seasoned (we used my homemade taco seasoning), grilled and chopped
2 heads romaine lettuce, chopped
1 red bell pepper, chopped
1 cup frozen corn, thawed
½ cup cooked black beans, rinsed and drained
2 avocado, sliced in half lengthwise, pitted, removed from the skin, and chopped
½ small red onion, diced small or thinly sliced
Handful of fresh cilantro, chopped
(Other suggestions include: shredded cheddar, sour cream, chopped tomatoes)
Instructions
Whisk all of the ingredients up through the oregano together in a medium bowl or 2-cup glass measuring cup. Slowly pour the olive oil into the mixture while whisking vigorously. Chill the dressing for at least 1 hour before using.
While the vinaigrette chills, grill the chicken for 4-5 minutes per side and chop the veggies.
Assemble the salads as desired in large bowls or on dinner plates. Drizzle the vinaigrette over each salad and serve.
Recommended Products
As a member of the Amazon Associate affiliate program, I earn a small percentage from your qualifying Amazon purchases when you click the Amazon links on this page. I'm not informed of who purchases what, just of what products are purchased.