Fall Harvest Salad – Loaded with roasted butternut, brie, apples, candied pecans, and an easy maple vinaigrette, this salad will forever change you!
As I sat and started writing this post last night, Gremlins was on TV in the background.  I really prefer to have the TV off while I write or at the very least, to have something on that I really enjoy: Big Bang Theory, the Yankees game, a classic chick flick like Sleepless in Seattle or My Best Friend's Wedding that I've seen 1000 times and can use as fun background noise.
But with Halloween around the corner, Kyle started watching Gremlins and got up in the middle to go to bed without turning off the TV.  Typical.  And moderately maddening.
If you remember the movie at all, it gets to be pretty raucous and obnoxious about halfway through when sweet little Gizmo multiplies and the evil Gremlins go ape-shit.  It's definitely not the type of noise I prefer when I write.  But I was lazy, left it on, and then got to thinking.
The sweet and salty fall harvest salad is a whole lot like those Gremlins.  On the outside, it's a little on the sweet side with roasted butternut squash, perfect Honeycrisp apples, dried cranberries, and candied pecan clusters.  The brie I added, which gets all melty from the warm squash, sort of balances the sweetness.
Sweet and Salty
But it's the hint of salt in the maple vinaigrette that sets the flavors of this salad off. You won't believe how amazing this dressing is!!
Sort of like those Gremlins.  Not that the salad turns into the spawn of the devil but it certainly comes to life with this dressing and I'll admit to completely inhaling the salad for four straight days of lunches.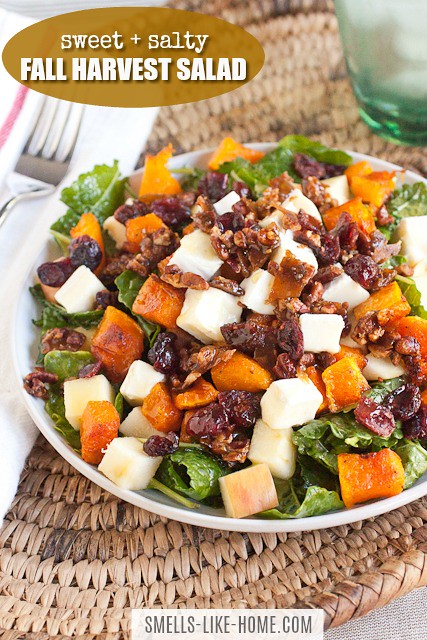 The sweet and salty combination is incredibly addictive and whether you eat these fall harvest salad components tossed over a bed of massaged kale or some leafy romaine, you won't be left feeling hungry.  Just don't feed it to the Gremlins.
Prep Time:

15min

Cook Time:

45min

Yield:

4 servings
Notes
Feel free to change up the ingredients in this salad to suit your preferences.  Goat or blue cheese would work great in place of the brie.  Use walnuts instead of pecans or add sliced almonds instead.  Pears would be awesome in place of the apples.  If you're not up to making the super quick maple vinaigrette I suggested, balsamic, pomegranate, or cranberry vinaigrettes would work fine too but you'll miss the salty aspect that I loved so much about this salad.
Ingredients
For the salad:
1 large butternut squash, peeled, seeded, and cubed
3 tbsp extra virgin olive oil, divided
Sea salt and freshly ground black pepper
½ cup chopped pecans
1 tbsp unsalted butter
2 tbsp brown sugar
1 bunch of kale, washed, stems removed, and roughly chopped (about 8 cups)
6 oz brie, cubed
1 large apple, cored and roughly chopped
½ cup dried cranberries
For the maple dijon vinaigrette:
2 tbsp pure maple syrup
Up to 1/3 cup extra virgin olive oil
1 tsp Dijon mustard
1 tbsp apple cider vinegar
¾ tsp sea salt
Instructions
01

Preheat oven to 425° F.  Spread the squash out on a large baking sheet and drizzle with 2 tablespoons of olive oil then sprinkle with some salt and pepper.  Roast for 25 minutes, toss the squash, and roast for another 15 to 20 minutes, tossing periodically until the squash is browned and softened.

02

While the squash roasts, make the candied pecan clusters.  Ready a Silpat or line a baking sheet with parchment paper; set aside.  Heat the butter and brown sugar over medium heat in a medium nonstick pan until bubbling.  Toss the pecans into the butter-sugar mixture until coated.  Cook, stirring occasionally, until the sugar liquifies and turns a dark amber color.  Pour the pecans out onto the Silpat or parchment paper and spread them out with a rubber spatula.  Allow them to cool completely before breaking them up into clusters.

03

To make the vinaigrette, whisk the maple syrup, ¼ cup olive oil, mustard, vinegar, and salt together in a medium bowl or shake it all together in a mason jar.  Whisk in additional olive oil in small increments up to 1/3 cup total until you reach your desired dressing consistency.

04

In a large bowl, toss the kale with the remaining 1 tablespoon of olive oil.  Massage the oil into the kale with your hands until the kale turns bright green and glossy, about 2-3 minutes.

05

Top the kale with the squash, brie, apples, cranberries, and pecan clusters.  Drizzle the maple vinaigrette over the top of the salad before serving while the squash is still warm.
Smells Like Home original | massaged kale method adapted from Annie's Eats