Apple slab pie is party pie! It's an apple pie baked on a large baking sheet and served in squares. What could possibly be better?!
This apple slab pie recipe! What can I say? It's what fall baking and Thanksgiving dreams are made of!
Forget pumpkin pie! Ok, well, this bourbon pumpkin tart is still cool in my book, but you get what I mean.
If you're feeding a crowd for Thanksgiving, Friendsgiving, or Hanukkah, a housewarming party or a Christmas party – you get my point – this slab pie will easily feed it.
What IS Slab Pie?, You Ask
A slab pie is a pie baked in a rectangular baking pan that is cut into squares instead of traditional pie-shaped slices.
Just as with round pie, there can be lots of variations of slab pie. This apple slab pie is just the start of the goodness!
There is peach slab pie. And blueberry slab pie. And even breakfast slab pie!
You'll get a minimum of 12 large servings of slab pie from a typical jelly roll-size pan but I assure you that forks will be drawn for dibs on the last piece.
This is why slab pie is the perfect party pie! It feeds a whole slew of people!
I know I've said that making pie isn't my thing but the all butter, really flakey (flaky?) pie dough I posted the other day is life-changing for me.
I couldn't imagine trying to wrestle with rolling out and transferring two very large sheets of pie dough for this apple slab pie recipe using a less-than-stellar recipe.
How to use pre-made pie dough for slab pie
You COULD use 2 boxes of pre-made pie dough for this slab pie recipe in place of my all butter, really flakey pie dough (or your own favorite homemade pie dough recipe). But it's kind of a hassle and it doesn't taste NEARLY as good as homemade pie crust does.
You would need to roll out 2 of the pieces of thawed dough on top of one another to make a piece large enough to fit the bottom of the pan.
Then you would need to do that again for the top crust. Like I said, kind of a hassle. In the time it takes to buy and thaw the dough, you can just make your own using my recipe!
And let's be real here: pre-made pie dough has NOTHING on the flavor and flakiness of homemade pie dough. There's just no comparison!
How to Make Apple Slab Pie
As you can see, the pie takes on a rectangular shape here. It's such a unique way to make and serve a pie!
After you've got the bottom sheet of dough nestled in the pan, you'll cover the dough with a ton of chopped apples mixed with fall's best spices.
I mean, come on now! How is it even possible to resist all of those warm spices?
Then you'll cover the apples with another monstrous piece of dough. We're talking BIG – 16×11-inches! This is no ordinary pie, after all.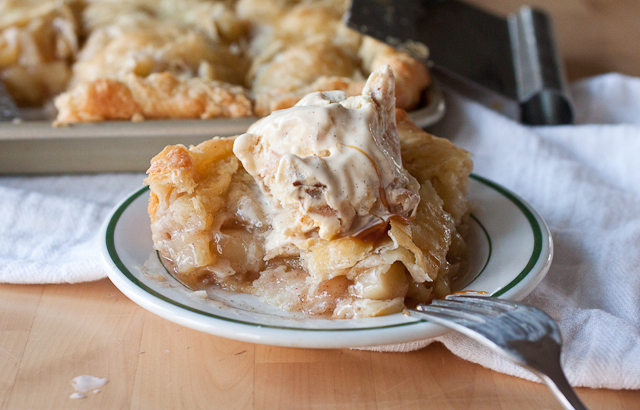 The last easy steps are to crimp the top and bottom edges together, cut a few holes, brush with some cream or egg wash, and bake.
It's really that easy! The hardest part about making this apple slab pie recipe, however, is waiting for it to cool before diving in. The waiting time nearly killed me!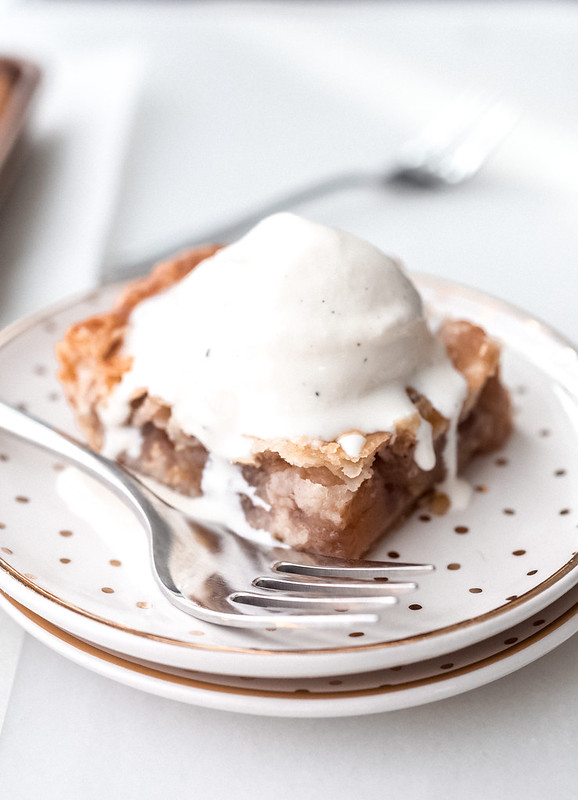 I served big slices of this pie with some SUPER delicious oatmeal raisin cookie ice cream and maple bourbon caramel sauce but vanilla or cinnamon vanilla bean ice cream would be just as splendid.
As would any of your favorite store-bought ice creams of course – no judging here!
If you haven't already invited a gaggle of people over for your next celebration, get on the phone (how old am I??), because you'll definitely want to share this apple pie with friends. It IS party pie, after all!
Apple Slab Pie
Active Prep Time:
45 minutes
Inactive Prep Time + Cooling:
2 hours
45 minutes
Total Time:
4 hours
15 minutes
Apple slab pie is party pie! It's an apple pie baked on a large baking sheet and served in squares. What could possibly be better?!
Ingredients
For the crust:
3 ¾ cups (470 grams) all-purpose flour
1 ½ tbsp sugar
1 ½ tsp table salt
3 sticks (12 oz or 340 grams) unsalted butter, cubed and kept very cold
¾ cup very cold water
For the apple filling:
3 ½ to 4 pounds apples, peeled, cored and chopped into approximately ½-inch chunks (about 10 cups)
Squeeze of lemon juice
⅔ to ¾ cup sugar (depending on how sweet you like your pie and how sweet your apples are)
3 tbsp cornstarch
1 rounded tsp ground cinnamon
¼ tsp ground nutmeg
¼ tsp ground allspice
⅛ tsp table salt
To finish:
2 tbsp heavy cream or 1 egg beaten with 1 tbsp water
Instructions
To make the crust: Measure the flour into a large, wide bowl. Whisk in the sugar and salt. Toss in the butter cubes and coat them all with the flour. Using your first 3 fingers of both hands, mash up the butter into smaller pieces, just bigger than the size of peas. You can also do this with two knives or a strong pastry blender. I prefer using my fingers.
Once the mixture looks sort of uniform, slightly crumbly, and the butter is broken up, stir in ½ cup of water with a rubber spatula until the water is absorbed and the dough starts to come together. If the dough is still dry and crumbly, add up to the remaining ¼ cup of water, 1 tablespoon at a time until the dough just starts to come together. Bring the dough together with your hands until it forms a soft and almost loose ball. Divide the pie dough into two pieces, one slightly larger than the other. You'll need the larger piece for the bottom crust. Transfer one piece to a sheet of plastic wrap and mold it into a rectangular shape, about 1-inch thick. Use the plastic wrap to help bring the dough together, if needed. Repeat with the remaining dough. Chill the dough in the refrigerator for at least 2 hours before using.
To make the filling: In a very large bowl, toss the apple chunks with the lemon juice. Mix the sugar, cornstarch, cinnamon, nutmeg, allspice, and salt together in a medium bowl. Sprinkle the sugar-spice mixture over the apples and toss them well to coat; set aside.
To assemble the slab pie: Preheat the oven to 375° F. Line the bottom of a 10×15×1-inch baking sheet or similarly sized jelly roll pan with a piece of parchment paper. If your pan is a little smaller than this (as mine was), don't worry - this recipe will still work fine; you'll just have a little extra dough leftover.
Roll out the larger piece of dough on a well-floured surface with a rolling pin into a 18x13-inch rectangle. Transfer the piece to the pan and drape the edges of the dough over the sides of the pan while only gently pushing the dough down into the inside and corners of the pan. Slip the pan into the fridge or freezer while you roll out the second piece of dough into a 16x11-inch rectangle (you want to keep the dough in the pan as cold as possible).
Remove the pan from the fridge/freezer and pour the apples and the juices over the dough in the pan - it may seem like way too many apples, but they will cook down. Drape the second sheet of dough over the apples. Trim the dough to where both top and bottom edges hang about ¾-inch over the edge of the pan. Seal up the edges tightly with your fingers.
Brush the top of the dough with the heavy cream or egg wash. Using a sharp knife, slice a whole bunch of 1-inch slits in the top of the dough to allow the steam to escape during baking. Place the whole sheet on a larger baking sheet - there will likely be spillage that you'll want to catch on the large pan rather than the bottom of your oven (trust me).
Bake for 40 to 45 minutes, until the top crust is a nice golden brown and the filling is bubbling through the holes in the crust. Cool the pan on a wire rack for at least 45 minutes before cutting and serving (see note below).
Notes
For this apple slab pie, you're really going to want to allow it to cool almost completely before serving. And this is going to be difficult because your entire house is going to smell delicious but try to wait. Attempting to serve this pie when it's still hot will result in a sloppy mess on your plate.
Also to note, this pie is best served on the day you make it but if you're in a pinch, it can also be made in full one day in advance. Make the pie as instructed, leaving it in the baking sheet, covered with foil, at room temperature or in a cool room (we kept it in the chilly garage), then reheat it at 300° F until warmed through (about 20 minutes). You can crank the broiler on in the last couple of minutes to crisp up the top crust if you wish - just watch it carefully to avoid burning that beautiful buttery crust.
Alternatively, you could assemble the whole pie up to one day in advance and keep it in the fridge until you're ready to bake it off.
adapted from Smitten Kitchen
Recommended Products
As a member of the Amazon Associate affiliate program, I earn a small percentage from your qualifying Amazon purchases when you click the Amazon links on this page. I'm not informed of who purchases what, just of what products are purchased.