The Foolproof Weeknight Meal Planning feature is a

new

weekly series on Smells Like Home which maps out fantastic family-friendly meal ideas for busy weeknights. You'll usually find at least one meatless option and you'll

always

find a delicious dessert…because we all need a little sweetness in our lives!
monday

skillet baked chicken parmesan meatballs: These skillet baked chicken parmesan meatballs are clearly one of these easiest and most satisfying meals you'll make all year.  They're just as perfect for a chilly late summer or early fall evening as they are in the dead of winter.  Served with some fresh, warm bread…life is good.
Tip: Double this recipe to make sure you've got enough meatballs for Tuesday night's dinner! Nobody will complain about these leftovers!
tuesday

toasted chicken parm meatball sandwiches: Chicken parm meatballs stuffed between two slices of sourdough with some extra sauce and mozzarella before being toasted – how much convincing do you need?
Tip: The meatballs will keep a few days in the fridge so if your weeknights are super crazy, consider making them on the weekend and simply assembling the sandwiches at night.  A quick tossed salad or Caesar salad will round out this meal really nicely.
wednesday

black bean burgers: Packed with protein and veggies, these meatless burgers, set atop some fresh spinach on a whole wheat bun are really filling if you're looking to serve them with a side dish, would be spectacular with some oven fries, zucchini fries, or a toss salad on the side.
Tip: These burgers will hold together better when being cooked if you prepare them a day or two ahead.  Shape the patties, place them on a plate and wrap the plate in plastic wrap.  Cook them directly from the fridge to help prevent them from falling apart in the skillet.
thursday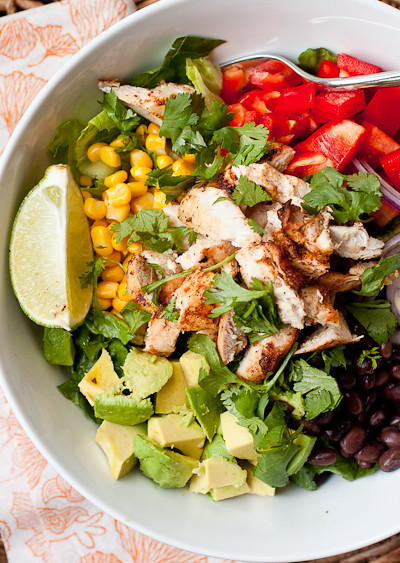 southwestern chicken chopped salad with chipotle honey dressing: In under 15 minutes, this salad, along with a copycat Chipotle vinaigrette is on the table!  Chopped veggies, grilled chicken, black beans, and a sprinkle of cilantro and lime juice are all you need for a filling and wholesome quick weeknight dinner.
Tip: Be sure to pick up your avocado from the grocery store a couple of days before you plan to make this salad.  You'll often find avocados to be very hard (i.e. not ripe) in the store and so give it some time to ripen on the counter – nobody likes a hard avocado!

friday

creamy chicken sausage and spinach pasta: A super simple combination of sauteed onions and garlic, a white wine-deglazed pan, diced tomatoes, chicken sausage, and fresh spinach mixed in with some pasta and mascarpone cheese.  Dinner in under 30 minutes?  Done and done.
Tip: Go for pre-cooked chicken sausage in this recipe so it only takes a couple minutes of warming in the pan before the sausage is ready to eat.  If you use fresh/raw chicken sausage, saute the links until cooked through then slice and add the slices to the pan with the spinach.
don't forget about dessert!

chocolate chip toffee bars: Hailing from only the best thick and chewy chocolate chip cookie recipe EVER, these bars have a layer of Heath toffee bits inside which gives the bars a caramel-ish boost and maximizes the #musthaveanotherone factor.  Dump the cookie dough in a pan and bake for 30-35 minutes – these bars are so much easier to make than dolloping cookie dough on baking sheets!