Foolproof weeknight meal plan is back on Smells Like Home! 5 30(ish) minutes meals + 1 dessert! A weekly series coming at you every Saturday!
What feels like ages ago – or you know, 3 years ago – I started a weekly meal plan series. Each meal plan included 5 weeknight meals, all under 45 minutes to prep and cook, as well as a dessert. It was a super fun series to put together and I know a lot of you loved it.
But it got to the point where I started running out of quick weeknight meals to continue to add without repeating any in the series.
Well. I've decided to revamp this series and I'm now including recipes from some of my blogger friends! Each week, there will be 4 recipes from my friends plus 1 meal and a dessert from Smells Like Home. I'm so excited about this you guys!!
Let's get started, shall we??
Monday
Chili Shrimp Noodles by Supergolden Bakes. A FIVE MINUTE MEAL!! How crazy good does this look??
Taco Tuesday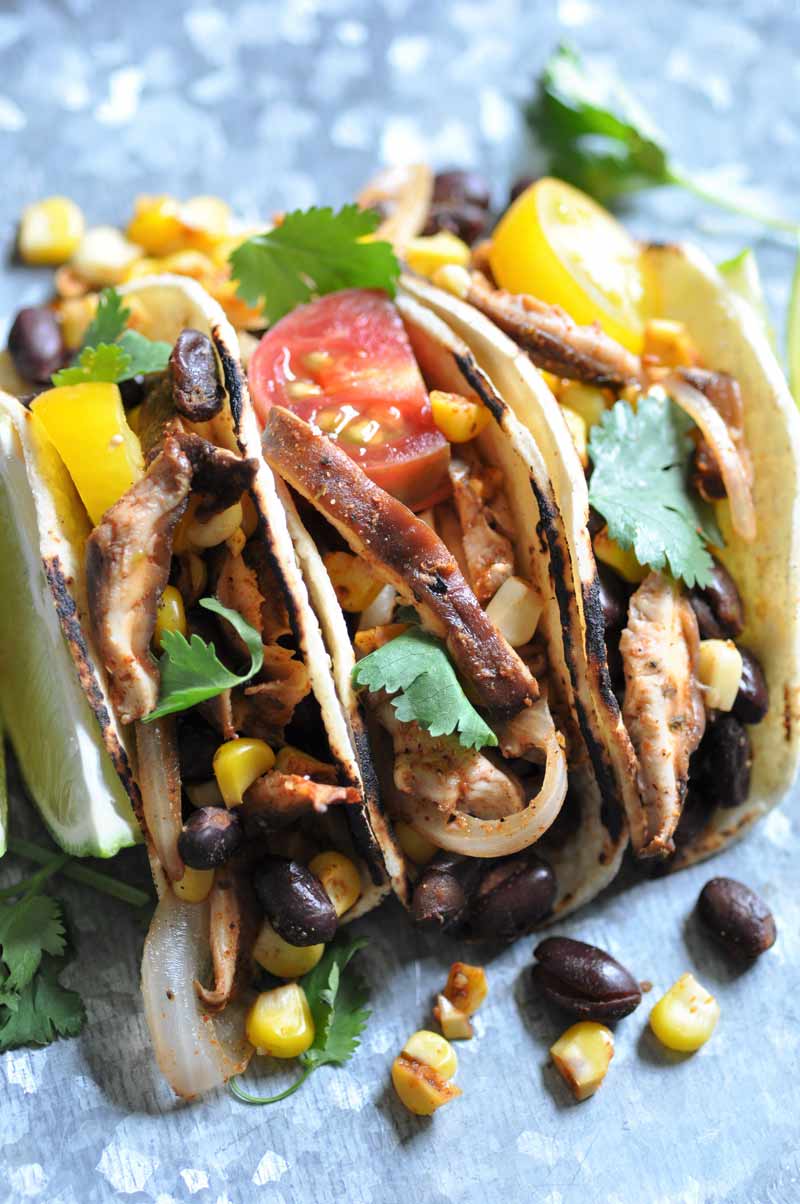 Spicy Black Bean & Shitake Mushroom Street Tacos by Veganosity. Vegan eating isn't all about tofu. These veggie and black bean tacos make for an easy and super healthy dinner!
Wedsnesday
Bacon Burgers with Bacon Onion Balsamic Jam by Smells Like Home (me!) – It's the 4th of July! Get out there and grill up some burgers! And if you're looking for a whole bunch of other BBQ-worthy food, check out my Grilling category!
Thursday
Asian Grilled Chicken Salad by The Many Little Joys. Cooking on hot summer nights doesn't have to be difficult. Grilled chicken with a bunch of fun salad add-ins and you're golden!
Pizza Friday
Grilled Farmer's Market Pizza by Smells Like Home (me again this week!). This was a clean-out-the-fridge night type of pizza and basically whatever veggies we had hanging out there went on this pizza. Turned out to be one of the best pizzas we ever made! Plus? Grilled pizza…mmmmm…
Let's Have Dessert
Compost Cookies by Smells Like Home (hi!). A super popular treat from the Milk Bar dessert shop, this cookie is chocked full of pretzels, potato chips, graham cracker crumbs, oats, chocolate AND butterscotch chips. Load 'em up and wash these babies down with a big glass of milk!