Foolproof weeknight meal plan is back on Smells Like Home! 5 30(ish) minutes meals + 1 dessert! A weekly series coming at you every Saturday!
I hope you guys had a fantastic 4th of July holiday filled with great food, s'mores, fireflies, and of course, fireworks! Cue all the emojis!!
This weekend, we're celebrating a BIG milestone: Riley's 1st Birthday!!! Can you even believe it?! Party pictures to come soon!!
MONDAY
One-Pot Red Pesto Pasta by One Clever Chef: This recipe looks incredible! And it's got dairy-free, gluten-free, vegan, and standard eating options included. A win for everyone!
TACO TUESDAY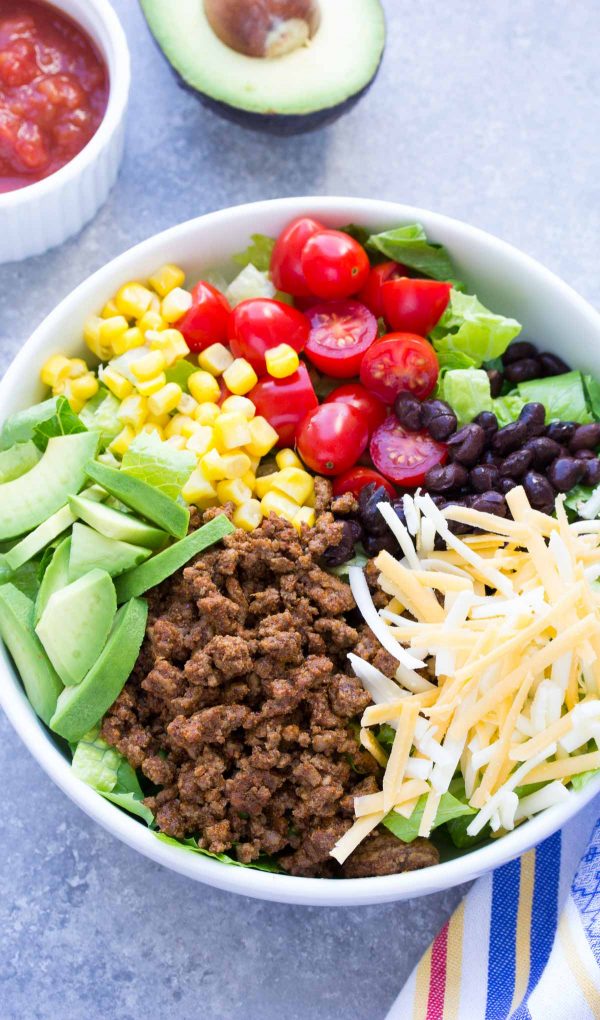 Healthy Turkey Taco Salad by Kristine's Kitchen: I'm always on the hunt for new ways to eat tacos and why is it that I always forget about taco salad? Load it up with alllll the avo!
WEDNESDAY
Grilled Greek Chicken by Smells Like Home (hi!): All this incredible chicken needs is an incredible side dish. We love this watermelon feta mixed greens salad or the ALWAYS popular Greek panzanella salad to go with this chicken.
THURSDAY
Chopped Tomato Mozzarella Salad with Chicken Sausage and Avocado by Mashup Mom: My GOODNESS this salad looks outstanding! Perfect for a quick weeknight meal or maybe to brighten up your lunch routine.
FRIDAY: BRINNER!
Ham and Spinach Quiche by My Pinterventures: Why is it that I never thing to make quiche? I mean, I LOVE quiche!! And it's always so easy to make! This ham and spinach version is super simple and easy enough for a quick weeknight meal.
LET'S HAVE DESSERT!
The 'I Want Chocolate Cake' Cake by Smells Like Home (yo!): You guys. You NEED this chocolate cake in your life. I'm serious. It's baked in a brownie pan and you whip that insanely delicious and swirlable chocolate frosting up in the food processor! If you start it right now, you can be eating this cake in about 1 hour!!!